Get the Skills to Become a Massage Therapist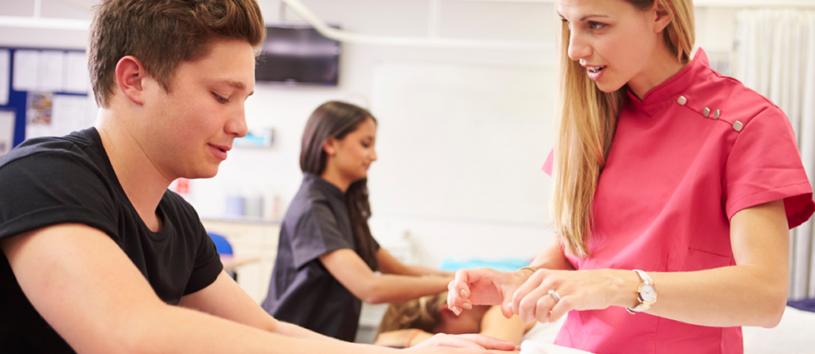 34-Week* Massage Therapy Training Program in California, Nevada & Texas
Are you interested in health and holistic healing? Do you enjoy helping others and feel satisfaction by providing relief to those in need? As a Massage Therapist, you can use your therapeutic touch to provide relaxation, relieve pain and stress, and rehabilitate injuries.
The Massage Therapy program at the Milan Institute provides the technical and hands-on skills training you need to begin your career in health and holistic healing. Learn Eastern, Western, ancient modalities, and the latest skills and techniques to function competently as a professional massage therapist in as few as 34 weeks*!
The best way to see if Milan Institute is the right fit for you is to come and tour the school. You can tour our facilities and meet with students and instructors. Schedule a tour now or Get more info.
Massage Therapist Training at the Milan Institute
The Massage Therapy program at the Milan Institute prepares students to become professional massage therapists. Students learn to provide relief and improved health and well-being to clients through the application of manual techniques for manipulating skin, muscles, and connective tissues. The program includes a unique curriculum containing Eastern, Western, and ancient modalities as well as the latest skills and techniques. Students receive practical training, including through an internship in Milan Institute's student massage spa.
In the Massage Therapy program, students learn:
Massage Therapy Essentials – a comprehensive introduction to anatomy, physiology, medical terminology, and the history of massage. Includes an introduction to massage protocols, Swedish massage, and standards of ethics and professionalism.
Anatomy and Physiology – in-depth study of the organization and structure of the human body as well as the functions of the human body.
Movement Arts – an introduction to kinesiology, sports massage, and passive joint mobilization
Pathology and Eastern Arts – an introduction to pathology, the disease process and how it affects the body's functions. Includes a focus on Shiatsu and Acupressure.
Deep Tissue Massage – students learn the skills to perform various deep tissue massage techniques for muscle redefinition by releasing stagnation, knots, and spasms that lie deep within the muscular tissue.
Massage Techniques – students learn about various massage techniques including prenatal and pediatric, chair, and reflexology. Includes CPR and First Aid education.
Spa Techniques and Practical Anatomy – aromatherapy, hydrotherapy, and other popular spa techniques, including body wraps, scrubs, Hot Stones, and the use of hot and cold packs and compresses. Practical Anatomy gives students hands-on experience in locating, palpating, and defining the location of various muscles.
Business Management and Law – focuses on issues necessary to build and maintain a massage practice including how to communicate with clients and associates effectively and professionally, determine permit requirements, navigate legal aspects, keep records, and understand tax information. Provides an understanding of the professional standards, code of ethics, and scope of practice necessary to build a strong foundation in massage therapy. Also provides education on HIPAA regulations.
Upon completion of the program, students will have the skills and knowledge to work as a professional massage therapist in a variety of settings including massage spas, hospitals, doctors' offices, sporting events and more.
This fun, online quiz takes 3-minutes to complete and you'll get a personalized report. Identify your strengths and social style plus the training and positions you're best suited for. Get Your Career Training Readiness score now.
After COVID-19 hit, I needed a new career. Milan Institute provided the support system I needed to gain both roots and wings. Melissa could not have been more supportive during my personal obstacles. Liz excels at skills I do not have and she helped me create an amazing résumé. My future career plans are to be a part of a Spa environment in Bakersfield.
Hands-On Experience in Our Student Spa
Not only will you learn Massage Therapy techniques in the classroom, but you'll also gain real-world experience working with real clients in our on-site student spa.
With supervision & guidance from our experienced instructors, you will provide clients with services similar to those offered in salons and spas. Once you've completed your program, you will be prepared to enter the professional world with confidence and begin building your client base.
Employment Opportunities
According to the U.S. Department of Labor, Bureau of Labor Statistics, employment of massage therapists is projected to grow 20 percent from 2021 to 2031, much faster than the average for all occupations. This growth is projected to create nearly 30,000 new job openings for Massage Therapists nationwide. Many of those openings are expected to result from the need to replace workers who transfer to different occupations or exit the labor force, such as to retire.
National averages may not accurately reflect workers' earnings and employment opportunities in particular parts of the country. They may include earners and employment opportunities at all stages of their careers and not just recent graduates' entry-level wages and opportunities
As a graduate of Massage Therapy school, you may find employment in:
Health Spas
Massage Studios
Physicians' Offices
Private Practices
And more!
One of the advantages of becoming a Massage Therapist is that you can work in a variety of settings, such as the spa industry, tourism, or clinical settings. Learn more about Massage Therapy training at Milan Institute and see if our program is the right fit for you.
Get a Career You Feel Good About
Are you ready to turn your passion for health and holistic healing into a career you'll love? With the Milan Institute, you can train for a career as a massage therapist in as few as 34 weeks*! Gain the hands-on technical skills training you need to take the state board examination for licensure and enter this career field.
Our admissions representatives will be happy to answer questions and schedule a tour of our classrooms and student spa where you can learn more about the path to your new career.
Call 1-888-207-9460 today!
The Massage Therapy program is offered at these campuses:
†CAMTC approved program
*Program length varies by state; please contact Admissions for more information.
Is a Rewarding Career in Massage Therapy Right For You? Get More Info…
If you're interested in learning more about careers in Massage Therapy and exploring whether Milan Institute is right for you, fill out the form on this page to receive more information.
For immediate questions, call 1-888-207-9460
---
Accreditation
---
Council on Occupational Education