Get the Skills to Become a Professional Manicurist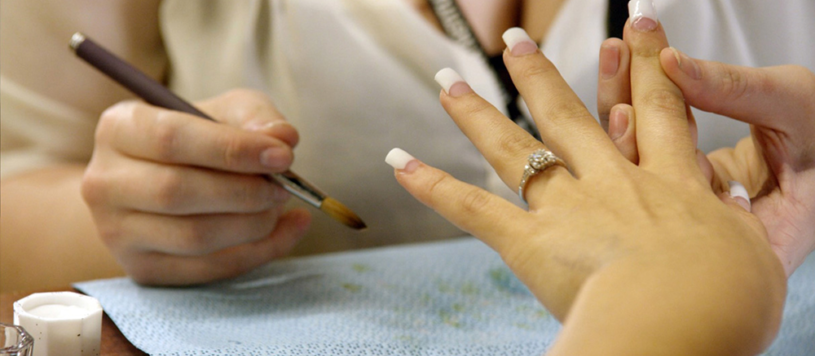 24-Week* Manicurist-Nail Technology Training Program in California, Nevada & Texas
Are you passionate about beauty and nail care? As a Manicurist, you can learn the knowledge and skills to make nail care your career! Manicurists are nail care specialists, and are experts in the practice of manicures, pedicures, nail tips, wraps, and nail enhancements.
The Manicurist-Nail Technology program at the Milan Institute provides the technical and practical skills training you need to succeed in this exciting industry. Gain the skills needed to take the State Board examination for licensure in as few as 24 weeks*!
The best way to see if Milan Institute is the right fit for you is to come and tour the school. You can tour our facilities and meet with students and instructors. Schedule a tour now or Get more info.
Manicurist-Nail Technology Training at the Milan Institute
The Manicurist-Nail Technology program at the Milan Institute provides students with the basic manipulative skills, safety judgments, proper work habits, and desirable attitudes necessary to take the State Board examination and for entry-level positions as a manicurist or in a related career field. Students receive the practical training needed to provide nail care services including manicures, pedicures, nail tips, wraps, and nail enhancements as well as perform the basic analytical skills to determine proper nail services and nail shaping for the clients' overall image and needs.
In the Manicurist-Nail Technology program, students learn:
Manicure and Pedicure Services – water and oil manicures, hand and arm massage, complete pedicures, foot and ankle massage, nail analysis, nail repairs, and application of artificial nails, liquid, gel, powder brush-ons, dip, nail tips, and wraps.
Creative Nail Art Concepts – creative nail designs, airbrushing techniques, and nail art.
Salon Business and Professionalism – business and communication skills, including professional ethics, customer service skills, decorum, record keeping, and client service records, basic tax responsibilities related to independent contractors, booth renters, employees, and employers.
Disinfection and Sanitation – procedures to protect the health and safety of clients as well as the technician and proper disinfection procedures for equipment used in establishments.
Health and Safety Considerations – anatomy (hair/skin/nails), chemistry and chemical safety including, protection from hazardous chemicals and preventing chemical injuries, preventing communicable diseases, electricity and electrical safety, and State Board Laws and Regulations.
Upon completion of the program, students will be prepared to take the State Board examination for licensure, and qualify for entry-level positions as manicurists or in related career fields.
This fun, online quiz takes 3-minutes to complete and you'll get a personalized report. Identify your strengths and social style plus the training and positions you're best suited for. Get Your Career Training Readiness score now.
Gain Experience in Our Student Salon
Not only will you learn Manicurist-Nail Technology techniques in the classroom, but you'll also gain real-world experience working with real clients in our on-site student salon.
With supervision & guidance from our experienced instructors, you will provide clients with services similar to those offered in salons and spas. Once you've completed your program, you will be prepared to enter the professional world with confidence and begin building your client base.
Employment Opportunities
According to the U.S. Department of Labor, Bureau of Labor Statistics, employment for manicurists is projected to grow at least 22 percent from 2021 to 2031, much faster than the average for all occupations. The BLS projects 36,600 new openings to arise from this growth and from the need to replace workers who retire or leave these occupations for other reasons.
National averages may not accurately reflect workers' earnings and employment opportunities in particular parts of the country. They may include earners and employment opportunities at all stages of their careers and not just recent graduates' entry-level wages and opportunities.
As a graduate of the Manicurist program, you may find employment in:
Beauty Salons
Nail Salons
Resort Hotels
Spas
And more!
Many Manicurists may choose to own their own salon! Learn more about Manicurist-Nail Technology training at Milan Institute and see if our program is the right fit for you.
Get Manicurist-Nail Technology Career Training You Feel Good About
Are you ready to turn your passion for nail care into a career you'll love? With the Milan Institute, you can train to become a Manicurist in as few as 24 weeks*! Gain the technical and practical skills training you need to take the state board examination for licensure and succeed in the beauty industry.
Our admissions representatives will be happy to answer questions and schedule a tour of our classrooms and student salon where you can learn more about the path to your new career.
Call 1-888-207-9460 today!
The Manicurist-Nail Technology program is offered at these campuses
*Program length varies by state; please contact Admissions for more information.
Is The Manicurist-Nail Technology Program Right For You? Get More Info…
If you're interested in learning more about the Manicurist-Nail Technology program and exploring whether Milan Institute is right for you, click get info on this page to receive more information.
For immediate questions, call 1-888-207-9460