Get the Skills to Become a Dental Assistant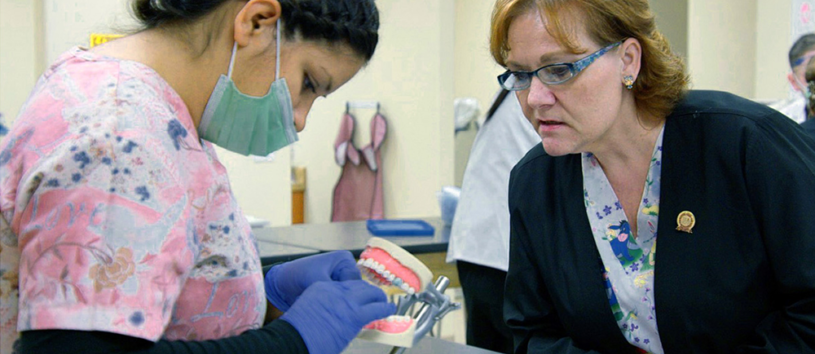 36-Week* Dental Assistant Training Program in
Reno-Sparks
Are you interested in a healthcare career? Dental Assistants provide direct patient care, take x rays, keep records, and schedule appointments. They also assist dentists during the examination and treatment of patients. As a Dental Assistant, you can have a hands-on patient-centered career in the healthcare field.
The Dental Assistant program at the Milan Institute provides the technical and practical skills training you need to enter the healthcare field as a Dental Assistant. Gain the skills needed to enter this career path in as few as 36 weeks*!
The best way to see if Milan Institute is the right fit for you is to come and tour the school. You can tour our facilities and meet with students and instructors. Schedule a tour now or Get more info.
Dental Assistant Training at the Milan Institute
The Dental Assistant program at the Milan Institute in Reno-Sparks prepares students for an entry-level Dental Assistant position in dental offices. Dental assistants perform a variety of duties in a dental office, including both administrative and clinical tasks. Dental assistants schedule and confirm appointments, welcome patients to the office, process payments, and inventory supplies. Dental assistants also prepare instrument trays, assist the dentist during the examination and treatment of patients by handing required instruments to the dentist and using the suction or other instruments to keep the patient's mouth clear, and assist patients with dental health care. In addition, some Dental Assistants will make dental impressions, remove sutures, and apply anesthetics to the gingiva (gums) and cavity preventatives to teeth.
The Dental Assistant program includes an externship in an off-site dental facility so students gain on-the-job skills training in a real-world environment.
In the Dental Assisting program, students learn:
Administrative Procedures – learn administrative procedures, including appointment scheduling, telephone etiquette, dental records management, inventory control, and laws/ethics as they pertain to the practice of dentistry. Includes HIPAA regulations and dental office compliance.
Oral Health and Periodontics – introduction to oral health, preventive dentistry, patient education, dental sealants, and periodontics.
Anatomy & Morphology – anatomy and physiology of the head and neck including muscles, nerves, bones of the cranium, form and function of the hard and soft oral structures, tooth surface and structures, and cavity classifications. Includes instruction on proper chair side techniques.
Dental Science – methods of disease transmission in the dental office and the principles of disease control, OSHA regulations and waste management. Also includes dental office emergencies, prevention, emergency equipment, and the role of the dental team.
Operative & Chair Side Assisting – learn hand pieces and instruments, their uses and care, as well as the use of cements and filling materials when used in restorative
Dental Radiology – operation dental x-ray equipment and radiation safety and techniques.
Laboratory Procedures – includes the theory and practice of prosthetic dentistry, primary and secondary impression materials, and bleaching processes.
Dental Specialties – learn about dental specialties including Oral and Maxillofacial Surgery, Oral Pathology, Endodontics, Orthodontics, and Pediatric Dentistry. Also covered is instruction on CPR and First Aid with certification being obtained.
Upon completion of the program, students will be prepared for entry-level positions as Dental Assistants in a dental office environment.
This was my first year in college, I entered straight out of high school. Before I enrolled I was still in high school researching about the Dental field and how many changes can occur. My experience at Milan Institute was absolutely great. I had the chance to meet new people and the staff are just really amazing. I am currently employed in Visalia Dental Care. Really amazing office with great staff. My future career plans are to keep studying more about the dental field and become a travel Dental Assistant.
Real-World Experience – Professional Clinical Externship
Dental Assisting is a hands-on career. There's no better way to learn than by working side-by-side with dentists and other dental professionals in a real healthcare setting.
As a student in this program, you will complete an externship in an off-site dental facility. Externships are an excellent way to get a feel for your new career, gain real-world job experience and make valuable industry contacts before you graduate.
Get Dental Assistant Career Training You Feel Good About
Are you ready to begin your career as a Dental Assistant? With the Milan Institute, you can train to become a Dental Assistant in as few as 36 weeks*! Gain the technical skills and knowledge you need to enter this growing career path.
Our admissions representatives will be happy to answer questions and schedule a tour of our classrooms where you can learn more about the path to your new career.
Call 1-888-207-9460 today!
The Dental Assistant program
 

is offered at these campuses:

*Program length varies by state; please contact Admissions for more information.
Is The Dental Assistant Program Right For You? Get More Info…
If you're interested in learning more about the Dental Assistant program and exploring whether Milan Institute is right for you, click get info on this page to receive more information.
For immediate questions, call 1-888-207-9460
---
Accreditation
---
Council on Occupational Education