Get the Skills to Become a Cosmetology Professional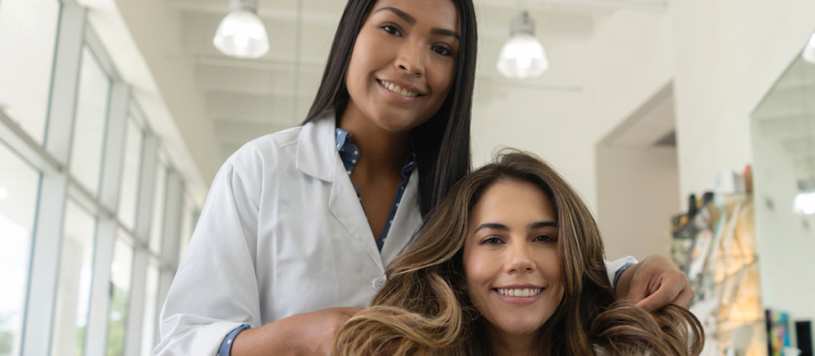 44-Week* Advanced Cosmetology Training Program in California & Texas
Do you have a passion for beauty? As a Cosmetologist, you can turn your passion into your career! As specialists in the art and science of haircare, skincare and nails, Cosmetologists are the foundation of the beauty industry.
The Advanced Cosmetology program at the Milan Institute provides the technical and practical skills training you need to succeed in the beauty industry. Gain advanced knowledge of the skincare, haircare and nail procedures needed to take the State Board examination for licensure in as few as 44 weeks*!
The best way to see if Milan Institute is the right fit for you is to come and tour the school. You can tour our facilities and meet with students and instructors. Schedule a tour now or Get more info.
Advanced Cosmetology Training at Milan Institute
The Advanced Cosmetology program at the Milan Institute is designed to provide students with advanced technical skills instruction in the practice of hair, skin, and nail services. Similar to the Cosmetology program, the Advanced Cosmetology program includes an additional five (5) 60-hour modules. Each module explores a deeper study into the subject matter to support student success in his/her Cosmetology career by offering diverse services to clients. The modules may be completed in any order, but students must start at the beginning of a module.
In the Advanced Cosmetology program, the additional five modules include:
Module A: Eyelash Extension Education – basic and volume eyelash applications
Module B: Make up Education – glamour bridal, corrective, and creative make up applications
Module C: Hair Extensions Education – full and supplemental hair extension applications
Module D: Tapers and Fades Education – tapers, fades, and line ups
Module E: Skin Care Education – microdermabrasions and peels
In the Cosmetology program, students learn:
Hairstyling Services – arranging, blow drying, cleansing, curling, dressing, hair analysis, shampooing, waving, and non-chemical straightening, and hair cutting, including the use of shears, razors, electrical clippers and trimmers, and thinning shears, for wet and dry cutting.
Chemical Hair Services – coloring, straightening, waving, bleaching, hair analysis, predisposition and strand tests, safety precautions, formula mixing, and the use of dye removers.
Skin Care Services – chemical and manual facials and massaging, stimulating, exfoliating, cleansing, or beautifying the face, scalp, neck, or body by the use of hands, esthetic devices, cosmetic products,  antiseptics, lotions, tonics, and creams.
Hair Removal and Lash and Brow Services – tinting and perming eyelashes and brows, applying eyelashes, removing superfluous hair from the body through use of depilatories, tweezers, sugaring, nonprescription chemicals, or waxing.
Manicuring and Pedicuring – water and oil manicures, hand and arm massage, foot and ankle massage, nail analysis, and artificial nail services, including acrylic, liquid and powder brush-ons, dip, tips, wraps, and repairs.
Professional Development – communication skills, personal and professional ethics, customer service skills, client communication, decorum, record keeping, client service records, rules and regulations, job readiness skills,  and employment-seeking strategies.
Disinfection and Sanitation – procedures to protect the health and safety of clients as well as the technician and proper disinfection procedures for equipment used in establishments.
Health and Safety Considerations – anatomy (hair/skin/nails), chemistry and chemical safety including, protection from hazardous chemicals and preventing chemical injuries, preventing communicable diseases, electricity and electrical safety, and State Board Laws and Regulations.
Upon completion of the program, students will be prepared to take the State Board examination for licensure, and qualify for entry-level positions in Cosmetology or related career fields.
This fun, online quiz takes 3-minutes to complete and you'll get a personalized report. Identify your strengths and social style plus the training and positions you're best suited for. Get Your Career Training Readiness score now.
Going back to school was something I had put behind me for several years, I felt that if I didn't put my head to doing so I would never get to it. I finally said I would and I did. The cosmetology program set me up to do what I craved the most, I was always attracted to the beauty industry and felt as if I was a little undecided about what I wanted to focus on. Going to school filled me with great knowledge and experience, and I was surrounded by mentors that pushed me to succeed and find my passion. I am now a licensed cosmetologist, working my own nail booth at Crystalina's nail shop.
Gain Experience in Our Student Salon
Cosmetology isn't learned all in the classroom – it's learned in the student salon. As a student in this program, you'll have the opportunity to work with real clients in our on-site student salon.
With supervision & guidance from our experienced instructors, you will provide clients with services similar to those offered in salons and spas. Once you've completed your program, you will be prepared to enter the professional world with confidence and begin building your client base.
Employment Opportunities
According to the U.S. Department of Labor, Bureau of Labor Statistics, employment of barbers, hairstylists, and cosmetologists is projected to grow 11 percent from 2021 to 2031, much faster than the average for all occupations. Population growth will lead to greater demand for hair care services.
National averages may not accurately reflect workers' earnings and employment opportunities in particular parts of the country. They may include earners and employment opportunities at all stages of their careers and not just recent graduates' entry-level wages and opportunities. 
As a graduate of Advanced Cosmetology school, you may find employment in:
Beauty Salons
Resort Hotels
Spas
And more!
Many Cosmetologists may choose to own their salon! Learn more about Advanced Cosmetology training at Milan Institute to see if our program is the right fit for you.
Get Advanced Cosmetology Career Training You Feel Good About
Are you ready to turn your passion for beauty into a career you'll love? With the Milan Institute, you can train to become a Cosmetologist in as few as 44 weeks*! Gain the knowledge and advanced skills training you need to take the state board examination for licensure and succeed in the beauty industry.
Our admissions representatives will be happy to answer questions and schedule a tour of our classrooms and student salon where you can learn more about the path to your new career.
Call 1-888-207-9460 today!
The Advanced Cosmetology program
 

is offered at these campuses:

*Program length varies by state; please contact Admissions for more information.
Is The Cosmetology Program Right For You? Get More Info…
If you're interested in learning more about the Cosmetology programand exploring whether Milan Institute is right for you, click get info on this page to receive more information.
For immediate questions, call 1-888-207-9460