Get the Skills to Become an Administrative Medical Assistant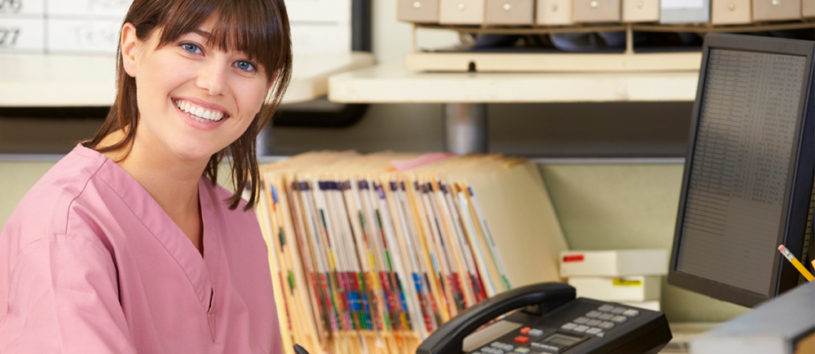 36-Week* Online Administrative Medical Assistant Training Program
Are you interested in a career in administrative healthcare? Administrative Medical Assistants play an important role in the functioning of doctor's offices, healthcare clinics, hospitals, and more.
The Online Administrative Medical Assistant program at the Milan Institute provides the technical and practical skills training you need to enter the healthcare field as an Administrative Medical Assistant. Gain the skills needed to enter this career path in as few as 36 weeks* with Milan Institute's 100% Online program!
The best way to see if Milan Institute is the right fit for you is to schedule a virtual tour. Schedule a tour now or Get more info.
Online Administrative Medical Assistant Training at the Milan Institute
The Online Administrative Medical Assistant program at the Milan Institute provides students with the skills and knowledge necessary for entry-level careers as an Administrative Medical Assistant. Students learn general business administrative office duties, emphasizing the healthcare community, as well as modern office operational practices. Students will be prepared to perform tasks and responsibilities including setting appointments, managing records, basic accounting practices, writing business letters and other types of correspondence, patient insurance and standard medical billing practices.
In the Online Administrative Medical Assistant program, students learn:
Office Basics – students learn office policies and procedures, appointment scheduling, customer service techniques, basic business transactions, records / file management, and workplace legal and ethical concepts, including HIPAA regulations. Students also learn anatomy and physiology, medical terminology, and practice keyboarding skills. .
Business Technology – students learn basic computer concepts and gain functional knowledge in various types of computer hardware, software, networking systems and information storage devices. Includes instruction in the Microsoft Windows operating system and Microsoft Office, Outlook and PowerPoint applications as they pertain to the workplace.
Information Coding – the foundation for medical diagnosis and procedural coding, students learn to perform basic coding functions necessary for completion of medical insurance forms utilizing CPT procedural and ICD diagnosis coding materials.
Insurance Theory – students learn how to obtain information from patient medical records and ledgers in order to complete insurance forms accurately. Includes an introduction to the insurance forms encountered within the healthcare field, including Universal, Worker's Compensation, Medicare, HMO and PPO plans.
Accounting Basics – students learn basic accounting techniques including accounts payable and receivable systems, ledger, revenue cycle, cash receipts/deposits, and purchase cycles; basic budgeting skills are also covered. Includes an overview of QuickBooks and Microsoft Office with a detailed focus on Excel.
Computerized Billing – using billing software to produce invoices, record and balance patient account information in the computer.
Office Communications – business communications used in today's workplace environment, including verbal and non-verbal communication techniques, e-mail and business communication etiquette. Students learn to use Microsoft Word software and practice writing different types of memos, letters, business proposals and reports using proper grammar, punctuation and universal business English.
Upon completion of the online program, students will be prepared for entry-level positions as Administrative Medical Assistants in a variety of settings including, but not limited to, medical offices, hospitals and medical clinics.
This fun, online quiz takes 3-minutes to complete and you'll get a personalized report. Identify your strengths and social style plus the training and positions you're best suited for. Get Your Career Training Readiness score now.
My journey started with Milan Institute in August of 2020. I usually had a hard time in the past comprehending things in college and would become overwhelmed, but for some reason with Milan Institute it wasn't like that. My instructor Mrs. K was a blessing. She made my course at Milan Institute a positive and smooth journey, she was very patient and understanding. Within my first week of my externship with Yosemite Bone and Joint I was offered a job. I ended up being hired on towards the end of my extern as a Surgical Coordinator. I am thankful for Milan Institute helping me find my passion. Just remember to never give up on your determination. Anything is possible as long as you keep on pushing yourself to be the best.
Online Administrative Medical Career Training
The Administrative Medical Assistant program is offered entirely online. You will get the technical skills and industry knowledge it takes to pursue a rewarding career in the convenience of your own space.
You may be training entirely online, but you are far from alone. Dedicated instructors will provide you with the personalized instruction you need to be successful.
Get Online Administrative Medical Career Training You Feel Good About
Are you ready to begin your career as an Administrative Medical Assistant? With the Milan Institute's online program, you can train to become an Administrative Medical Assistant in as few as 36 weeks*! Gain the technical skills and knowledge you need to enter this growing career path.
Our admissions representatives will be happy to answer questions and schedule a virtual tour where you can learn more about the path to your new career.
Call 1-888-207-9460 today!
The Online Administrative Medical Assistant program is offered at these campuses:
*Program length varies by state; please contact Admissions for more information.
Is The Administrative Medical Assistant Program Right For You? Get More Info…
If you're interested in learning more about the Administrative Medical Assistant program and exploring whether Milan Institute is right for you, click get info on this page to receive more information.
For immediate questions, call 1-888-207-9460
---
Accreditation
---
Council on Occupational Education