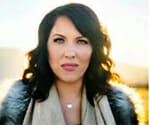 Have you ever wondered how many different ways there are to put a cosmetology education to use? Just look to Rebecca of Reno, Nevada for an inspiring example. Rebecca is a proud graduate of the Milan Institute of Cosmetology campus in Reno, Nevada. She is a resident stylist for the beautiful Salon 215 South, located in midtown Reno and also works with the best regional talent in the beauty industry on projects for television, film and photo shoots. You'll also want to stay tuned for her upcoming appearance on The Plush Life television show as Salon 215 South's new premiere hair and makeup artist.
Rebecca balances her professional time between hairdressing and educating in salons nationwide. She has an online magazine, Your Personal Stylist and is the only TIGI® Colourist Ambassador in the state of Nevada. She will also be the lead hair and makeup artist for the Mrs. USA Universal pageant in Reno coming up in June 2015.
It was during a difficult period in her life that Rebecca learned about Milan Institute of Cosmetology. She was a single mother of three kids and unemployed after losing her job due to the recession. The State of Nevada Division of Welfare required that she either find a job or enroll in school. "Companies in my previous field of real estate leasing still weren't hiring, so I chose beauty school," says Rebecca.
One of the most difficult elements of going to school for Rebecca was not having a steady income. State welfare helped out with food for her and her kids, and she received federal grants and loans to pay for her tuition. "I had to have faith ?that one day I would be able to support myself."
About six months into cosmetology training at Milan, Rebecca experienced another difficult setback. "My mom gave us sixty days' notice and asked us to move out of her house. I was unemployed, had seven months until I would graduate and now my children and I were going to be homeless." Though the financial stress weighed heavily, Rebecca realizes now that her mother believed she could do it on her own. "I was scared and angry, but I dug deep, rented an apartment and made it work. My mom's actions forced me to be independent. I thank her for that now, and I still give her flowers on Mother's Day," laughs Rebecca.
At Milan, not only did Rebecca learn about the beauty industry, she also learned how to run a business, and how to think positively and set goals. "Those are skills I use every day," says Rebecca. "I recommend Milan to prospective cosmetology students because I believe that I received a superior education. Now I have a career that pays well and is globally recognized. I love that."
Rebecca's encouragement to those desiring to enter the beauty industry: "Ask yourself, how soon do you want to be successful? If the answer is right away, then you must do the things that will drive you to success right away. Achieve excellent grades. Have exceptional attendance. Respect your instructors. Do your homework. Practice often and always work diligently. Most importantly, embrace your fear; set out and land your clients."