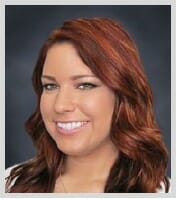 Prestigious El Paseo Drive in Palm Desert, California, is where you will find 2012 Cosmetology graduate Christina. Christina, a graduate from Milan Institute of Cosmetology in La Quinta, California, is a stylist at The Last Tangle salon in the El Paseo shopping district. "I specialize in hair and makeup, and I do a lot of special events like weddings, proms and birthdays. I've also done a few fashion shows for Spotlight 29 Casino in nearby Coachella, California," says Christina.
While having had an interest in cosmetology for several years, Christina was taking classes at a community college as well as working part time as a nanny, and high school cheerleading coach before she finally decided to take the next step and turn her interest into a reality. When she decided that she was ready to enroll in a cosmetology program, she did her homework and visited a number of schools before making her decision. "First impression is everything," Christina says. "After taking the introductory tour at Milan, I felt that compared to the other schools I'd visited, Milan outshines them all."
While in school Christina recalls that she struggled with certain aspects of the program. "An obstacle for me personally was attendance. I was constantly late, absent or leaving early. It wasn't because I disliked the program. It was because I felt like I knew it all. I only wanted to be there if my own personal referrals were coming through the door." Christina notes, "While I was in school, I was constantly given clients who requested highlights, and it used to drive me nuts because it wasn't something I liked to do. Today I am so thankful for the entire experience. All of that practice in school made me faster and more knowledgeable about highlighting. Now, highlighting is one of my primary moneymakers."
Another difficulty for Christina was learning aspects of cosmetology outside of hair design. "Even though I made it through the skin care and manicuring areas of the program," she says, "they were probably the toughest subjects for me. My interest in those areas just wasn't as high as it was in hair design." Christina credits Milan's instructors and staff with helping her along by motivating her, not giving up on her and pushing her to succeed.
"I met Christina when she came in for her initial campus tour," remembers Stacey Kane, Admissions Representative at Milan Institute of Cosmetology in La Quinta. "I have to admit, I followed her progress while she went through the program, and there were moments when we weren't sure Christina was going to succeed. She struggled through school with attendance." Adds Stacey, "I was so pleased when I saw her pull it together, graduate and immediately secure a booth rental on El Paseo, the desert's own 'Rodeo Drive'. She's made a success of herself as a professional stylist, and I am especially proud of her."
If there's one thing that Christina wants to impart to current Milan cosmetology students, it is to take every advantage the program offers. "You're in school for 1600 hours, and then you're done and on your own. Don't waste any opportunities. Be there on time, take every client you can and don't be afraid to try something new."
Recently Christina was invited to be a guest speaker for current cosmetology students at the La Quinta campus. Only two years out of school, she shared with them the sense of accomplishment she has from successfully working in a salon on El Paseo Drive. "I love my clients and what I do," she shared. "Every day I walk into the salon, I know I am going to be making people look and feel better than when they came in. It may sound cliché, but it is truly an incredibly rewarding feeling."