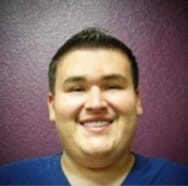 Bubba, a 2011 cosmetology graduate, set his sights on working in the beauty industry early in life. "When I was a child, my mom would take me along when she went to get her hair and nails done at a local salon," he explains. "The work the stylists' did and their talent awed me. I always knew I wanted to become a cosmetologist some day."
While enrolled in an independent study high school, Bubba heard about the Cosmetology program at the local Milan campus where he lived in Visalia, California. Wanting to get a better idea of what beauty school was actually like, he contacted Milan and set up a tour. "I loved it. It looked like a really fun environment and I knew it was just what I needed to get started toward my dreams of becoming a cosmetologist," Bubba said of his tour experience. Immediately he set to work on finishing his high school studies and then enrolled at Milan Institute of Cosmetology.
n the beginning, he found the cosmetology program to be a struggle for him. "I really had to learn how to study and work extra hard," he reports. He considers completing the program and passing his state license exam to be his biggest accomplishment to date. "I graduated only the day before my scheduled testing date. I may have cut it close but at only twenty years old, I am proud to say that I did it," he exclaims.
Currently employed by Shear Diva Salon in Visalia, California, he now works full time as a nail technician. This might surprise some of his former classmates and teachers. While in school, Bubba loved cutting and styling hair but not doing nails. "I didn't like doing nails at all," he admits. It wasn't until he became a licensed cosmetologist that he took a real interest in manicuring and now he specializes in nails. "I love making my clients happy. Most of them tell me to do whatever I want and just go crazy. Their fingers are like my canvas."
Bubba believes that it's important to remember to never give up on your dreams. "You may face struggles along the way, but always do your best. Eventually you will succeed. I've accomplished so much, and my journey has just begun."