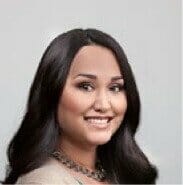 An affordable, short-term program and flexible class schedules are what attracted Kelli to the Esthetician program at Milan Institute in Clovis, California. "At the time," says Kelli, "I was working as a professional makeup artist on TV commercials and corporate videos. Although I was able to maintain enough part time work to support my family, I knew that in order to take my career to the next level I needed to get my esthetics license."
Heading back into a classroom environment was a little daunting. "I was nervous that I was going to be the old lady of the group. I graduated high school in 2002, college in 2005, and was married with a child by the time I started at Milan," says Kelli. Much to her surprise, she discovered her classmates to be both younger and older. There was also a good mix of people in various life stages, some just starting out and others like her returning to school to further their education. "We helped each other, motivated each other, kept each other accountable and supported each other through the program. I would never have imagined that I would meet so many strong, intelligent women in one class," says Kelli of her classmates.
With the fast pace of the program, it took a little of bit of adjusting to get her mind back into school mode. "I think my experience in the beauty industry helped me," says Kelli. She remained focused on her goal and didn't let self-doubt get in the way. "We can be our own worst enemy. There were times when I would get overwhelmed with school, work and family life, but I did my best to keep my eye on the prize," says Kelli. Today, Kelli is a licensed esthetician working part-time at Estancia Day Spa and Salon in Fresno, California. In addition, she continues to grow her business Forever Adored makeup and beauty services where she recently added a cosmetics line and bridal division. She has also become certified in eyelash extensions and is now providing that service. "I love, love, love what I do," exclaims Kelli. "I truly believe that I have the best job in the world." You can check out some of Kelli's work at www.foreveradored.com.