Earn Your High School Diploma While Attending Milan Institute Education Program
Milan Institute and C4L Academy have partnered to offer adult learners a way to complete their high school education while pursuing career education at Milan Institute.
Earn an accredited high school diploma online, on your schedule.
C4L Academy is at no cost to students attending Milan Institute certificate programs.
Must pass ACCUPLACER ATB Test.
Supportive staff to encourage and guide you.
Ask an admissions representative today about how to qualify to enroll in the Eligible Career Pathway Program offered through Milan Institute. Call 1-888-207-9460 for more info.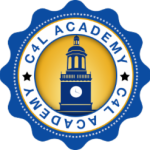 C4L (Center for Learning) Academy is an accredited, online, adult education provider that awards High School Diplomas. C4L Academy is proudly accredited by Cognia, which is a global accrediting agency recognized by the U.S. Department of Education. C4L Academy is focused on meeting the demands and circumstances of adult life, with a flexible program that accommodates to the obligations that come with being a parent or working a full-time job. Our diploma program is fully online, which allows students access anywhere and at any time. Our team firmly believes that learning is a lifelong process and are committed to continuous growth and improvement for our students and as an organization.
C4L Academy is a unique and separate entity not associated with the academic operation of Milan Institute and Milan Institute of Cosmetology.