Come to Milan Institute for Your Massage Therapist Training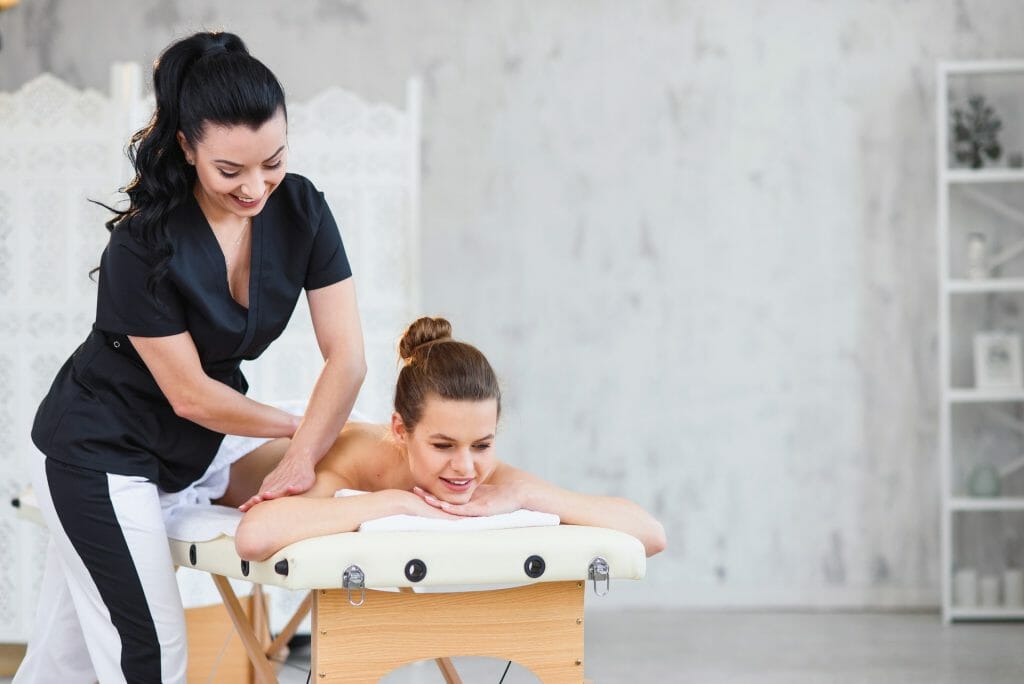 Would you like to make massage therapy your career? Massage has been used since ancient times to relieve pain and promote healing. A career as a massage therapist can be highly fulfilling as you work to help others relieve their pain. If you are interested in health and holistic healing, and you enjoy helping others, massage therapy could be a great career for you! At Milan Institute, you can get the training you need to begin your career as a massage therapist in as few as 34 weeks!*
Massage therapists use therapeutic touch to provide relaxation, relieve pain and stress, and rehabilitate injuries. Massage can increase circulation, improve sleep, and promote  relaxation throughout the entire body, as well as many other benefits. At Milan Institute, students learn to provide relief and improve health and well-being to clients through the application of manual techniques for manipulating skin, muscles, and connective tissues. 
Milan Institute's Massage Therapy program includes a unique curriculum containing Eastern, Western, and ancient modalities as well as the latest skills and techniques. Students study both the theory and knowledge behind the art of massage, as well as learn the technical skills to properly perform different modalities of massage. Students learn human anatomy, physiology, kinesiology, pathology, massage theory and history. Instruction covers a wide range of massage techniques and modalities, including Swedish massage, deep tissue massage, sports massage, prenatal massage, pediatric massage, and Shiatsu. Students also learn spa techniques including aromatherapy, hydrotherapy, and other popular spa techniques such as body wraps, scrubs, hot stones, and the use of hot and cold packs and compresses. Students have the opportunity to practice their skills in a real-world setting at Milan Institute's student spa. 
In addition, Milan Institute's program prepares students to build and maintain a massage practice. Students receive instruction on how to communicate with clients and associates effectively and professionally, determine permit requirements, navigate legal aspects, keep records, and understand tax information. Students learn to understand the professional standards, code of ethics, and scope of practice necessary to build a strong foundation in the massage therapy industry. 
At Milan Institute, students receive the practical training they need to be prepared for a professional massage therapy career. Upon completion of the program, students are prepared to take the State Board exam for professional licensure. Graduates will have the skills and knowledge to work as a professional massage therapist in a variety of settings including massage spas, hospitals, doctors' offices, sporting events and more.  
If you are interested in making massage therapy your career, come to the Milan Institute for your training. Milan Institute is accredited by the Commission of the Council on Occupational Education, and all courses are taught by instructors who are professionals in their respective fields, bringing industry insight right to the classroom. If you are ready to turn your interest in health and healing into a professional career you can feel good about,** contact Milan Institute today! Our helpful admissions representatives can answer any of your questions, tell you about our campuses, and even help you begin the enrollment process. Make massage therapy your career, with training from Milan Institute! Click here to get started today!
*Program length varies by state; please contact Admissions for more information.
** For more information about our graduation rates, the median debt of students who have completed the program, and other important information, please visit our website at https://milaninstitute.edu/career-programs/massage-therapy/.