Milan Institute Recognizes our Exceptional Instructors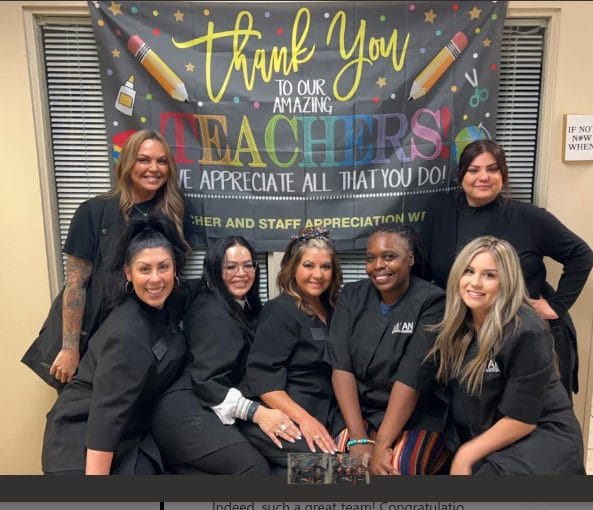 To all the incredible educators at Milan Institute and everywhere, 
Happy Teacher Appreciation Week!
We want to take a moment to express our deepest gratitude for your unwavering dedication and boundless passion for teaching. Your commitment to shaping the minds of the future has had a profound impact on countless lives, and for that, we are forever grateful. 
With your exceptional leadership, you have become beacons of knowledge and inspiration in our classrooms. Your ability to ignite curiosity, foster growth, and encourage critical thinking is truly remarkable. You have not only imparted knowledge but have also instilled confidence and helped students discover their unique strengths and talents.
The impact you have made reaches far beyond the classroom walls. You have inspired a love for learning that will last a lifetime. The lessons you impart and the values you instill will guide your students as they enter the healthcare and beauty industries. 
We recognize that an instructor is not just a profession but a calling that requires heart, resilience and an unyielding commitment. Your ability to adapt to changing circumstances and go above and beyond for your students is nothing short of remarkable. 
During this special week, we want to honor and celebrate you – our extraordinary instructors – for your remarkable contributions. Your dedication has changed lives, opened doors, and ignited curiosity and knowledge within the hearts of countless students. Your influence knows no bounds, and your impact will be felt for generations to come. 
To all the instructors who have shaped minds, touched hearts, and made a difference, thank you. Thank you for your unwavering commitment, your passion for teaching, and the positive change you bring to the world. 
Happy Teacher Appreciation Week from Milan Institute! 
To learn more about Milan institute and Milan Institute of Cosmetology, our career training programs, financial aid options, and career services, please visit https://milaninstitute.edu/  or click here to book a tour of one of our campuses.